Wood Destroying Organisms
Wood Destroying Organisms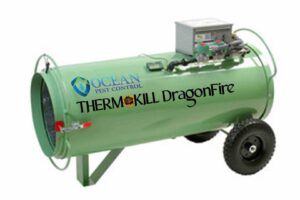 There are over 30,000 species of wood-boring beetles in the United States. Some of the common species are Powderpost beetle, Old House Borer and Longhorn Beetle. Adult beetles and their larvae are rarely encountered. Their detection is usually discovered by the evidence they leave behind after exiting the wood. Frass, which is the term used for the consumed wood that the beetles eject from their bodies, is usually the evidence that is noticed first.
Depending on the species, a single female beetle may lay between 50 and 150 eggs and the development time from egg to emerging adult may be as much as 10 years. A single shelf in a kitchen cabinet could contain hundreds of beetle larvae. The frass can range from a consistency of fine flour to a gritty texture like sand.
Once a group of larvae begin to reach maturity, the emergence of the adult with the associated frass can continue for months or years. The traditional methods of control such as applying a surface pesticide or injecting the wood are very limited in their success. Fumigation, although effective, is very expensive and carries a risk of injury if the application is not done properly.
Thermokill's™ Dragonfire heat treatment is safe and effective. A single application of heat can have a 100% mortality of all the wood boring insects in an infested area. We are able to isolate the infested area with our interlocking, insulated panel system thereby reducing the time and cost of the treatment.